Smelling Like A Rose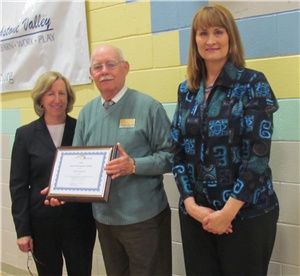 John Gaynor Logs 1800 Volunteer Hours as URI Master Gardener

When John Gaynor graduated from the URI Master Gardener Program in 1983, he was required to perform 50 hours of volunteer work, informing the public of good gardening practices.
Over the last 30 years, John has more than met the requirement. At last count, he had logged more than 1800 volunteer hours. Much of that volunteer work over the last five years has occurred at Daggett Farm Greenhouse at Slater Park in Pawtucket, the collaborative project between the City of Pawtucket and the Arc of Blackstone Valley.
John has been a mainstay of the program since 2008, helping provide individuals with intellectual and developmental disabilities, as well as the general public , with a community-based horticulture experience. John's work has been so integral to Daggett Farm's success, The Arc of Blackstone Valley honored him with a Special Recognition Award earlier this year.
John became a URI Master Gardener after seeing an ad in the local paper. He had always been interested in gardening, and the 17-week program seemed like a perfect way to extend his knowledge. The URI Master Gardening Program has been training people like John on basic gardening principles since 1978.
After semi-retiring from his career as an industrial engineer in 2005, John found he had more time for the program. He began running the group's statewide soil testing program and a chance meeting with Daggett Farm Program Director Anna McLaughlin brought him to the Arc.
"Anna and I graduated from the Master Gardener program together," John explains. "I ran into her at the grocery store a few years ago and she told me about Daggett Farm. She invited me over to see the program, one thing led to another and I started volunteering. Then the person in charge of the Master Gardener Program wanted to give it up, so I took over in 2009. We now have about eight of us who participate."
The URI Master Gardeners assist the staff with growing plants for the Daggett Farm retail shop and provide free educational programs to the public. This year's Summer Gardening Series covered everything from house plants and vegetables to annuals and perennials.
John is a Pawtucket native who still lives in the city. He remembers spending a lot of time during his childhood in Slater Park, riding his bike and playing ball. Now in retirement, he continues to enjoy his time there.
"I volunteer on Tuesdays in the back garden and people will stop by and ask questions," he said. "'Why is something not blooming?' or 'How do I plant this?' I really do enjoy the program and the people who like to work with us."