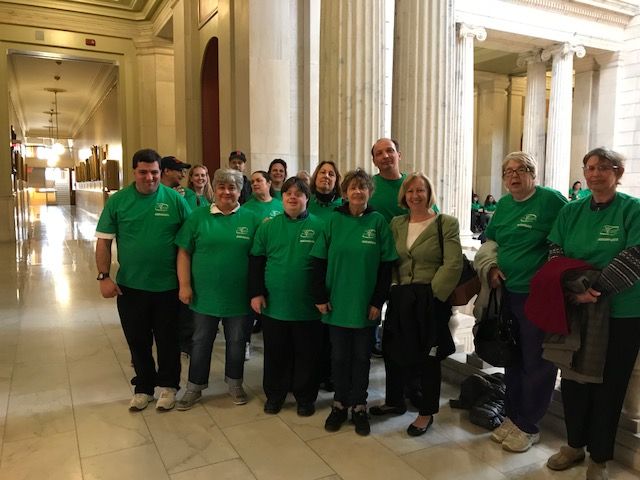 We've been making a difference in our community by helping people with intellectual and developmental disabilities assimilate within their community and gain acceptance and understanding. See for yourself!
Thank you to all of our 2020 "non event" Golf Outing Sponsors and Donors!
Flying Shuttles artists will be featured in the Outsider Collective's show at Hope Artiste Village.
The 39th Annual Golf Outing and Live Auction has been canceled for 2020. Due to the uncertain times that we are living in, we felt it necessary to be safe and thoughtful of everyone involved with our one major fundraising event. It is not clear if crowds will be able to congregate above 50 people or if ideal conditions for a golf outing will be introduced by the end of this summer. Please check back for a new date for our Annual Golf Outing and Live Auction to be scheduled in the summer of 2021!
Look at the Arc family members---Marilyn, Moussa and Julia--- who are featured on the U.S. Department of Justice's website! Amazing accomplishments for all three.
2019 Arc of Blackstone Valley Annual Awards Ceremony has been POSTPONED UNTIL THE FALL
The Awards Ceremony will be re-scheduled in the fall of 2020, TBA
#Giving Tuesday on December 3rd
Join the Global Giving campaign on #Giving Tuesday, December 3rd and give the gift of independence to all of our consumers! Click our donate button now!
Join author of Five Courageous Mothers, Anne Tucker Roberts, for a candid and honest discussion for anyone who has a relationship with a person with a disability.
Wednesday, July 31 at 6pm at the Bristol Train of Artillery Museum, 135 State Road in Bristol. Free and open to the public.
Outsider Collective features Flying Shuttles