Individuals preparing for competitive employment are supported and empowered by Arc staff every day. In this article, we celebrate the stories of three individuals who have secured community-based employment, earning competitive wages.
Employment: Individuals with Disabilities Find Jobs through The Arc!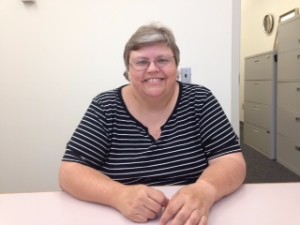 Marilyn Lima has a strong background in the culinary arts which helps in her current job in food service at Genesis Healthcare's Grandview Center in Cumberland. She graduated and earned a certificate from the Cookie Place and has even written a cookbook! "This is my dream job because the residents are really nice and I especially enjoy serving people in the Swan Room." Marilyn works three days a week from 3:30-7:30 pm. She delivers meals on the food truck to individuals who eat meals in their rooms as well as serves people in the dining room. Preparing trays each day is part of her job, along with clearing tables and cleaning pots and pans. "Having a job makes me feel important," she comments. "My paycheck is directly deposited into my bank account so I can easily save money and pay for things like my rent and food or planning a vacation." The Center's Executive Director, Susan Lehman, has a lot to say about Marilyn, "She is absolutely a wonderful addition to our Center. As a Dietary Aide, Marilyn shows tremendous pride in her work which is evident as she comes to work early each day. She is polite, works very hard, and enjoys conversing with our residents. We are very lucky to have her."
---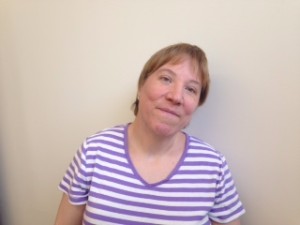 Mary Babiec works at Mansion Nursing Home in Central Falls, 3-4 days a week. Her job responsibilities include sandwich preparation, setting up food trays for delivery by the "food truck" and cleaning. Prior to this job, she was employed for 17 years at Cartie's Health Center. "I love my job, because it not only keeps me busy, but I enjoy the people and the work," she exclaims. "I like earning money so that I can pay for new clothes, food and movies on Thursdays. I feel it is important to be independent and to learn how to spend money wisely." Mary is grateful to Arc staff that provide transportation to and from work each week and for their assistance with banking.
---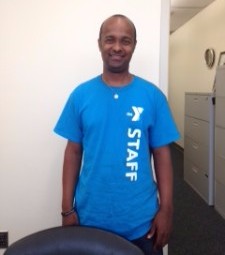 Jose Delgado works five days a week at the Heritage Park Day Care Center in Pawtucket. Working over 20 hours a week, he is responsible for delivering breakfast to all classrooms early in the morning, followed by clearing and cleaning the tables. Jose's supervisor, Erin Combs comments, "Jose helps with maintenance duties and delivering lunches to the children at Heritage Park YMCA.  He is a reliable, hard worker who always has a smile. Jose is a great asset to our center." Often he is given additional duties like going to the janitor's supply closet for paper towels, mops or other items. "Sometimes I get to spread the wood chips around out on the playground which gets me outdoors. One of the best parts of having a job is that I can pay for my membership at Planet Fitness." Before this job, he worked with the Blackstone Valley Landscaping crew, NEPTCO and Books on the Square in Providence. "This is my favorite job though, because I like my boss Erin and I enjoy the work!"