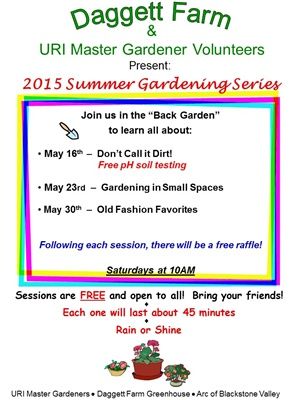 PAWTUCKET, RI (April 28, 2015) -- Daggett Farm and URI Master Gardener Volunteers will host the 2015 Summer Gardening Series on Saturdays from May 16th through May 30th at Slater Park. The series will offer tips from Master Gardeners on testing the pH in soil, gardening in small places and old fashion favorites. The 45-minute sessions begin at 10 a.m. and are free and open to the public.
A specific topic will be covered each Saturday. Free soil testing also will be offered on May 16th. The Summer Gardening Series topics include:
May 16th: Don't Call it Dirt!
May 23rd: Gardening in Small Places
May 30th: Old Fashion Favorites
Established in 1999, Daggett Farm is a collaborative project between the City of Pawtucket and The Arc of Blackstone Valley. It is designed to provide individuals with intellectual and developmental disabilities employment opportunities as well as community-based horticulture activities. The retail shop offers plants and hand crafted items to the public and is open Monday through Friday, 8 a.m. to 4 p.m.
Daggett Farm is a full service floral shop, offering centerpieces and hand tied bouquets for special occasions, made to order seasonal arrangements and party favors. It also offers horticultural classes and other community activities to the general public. Visit www. bvcriarc.org for more information.
The Arc of Blackstone Valley, created in 1955, is a principle service organization for adults with intellectual and developmental disabilities in the Blackstone Valley area. The agency currently employs approximately 250 individuals and serves mote than 300 adults including residents of the Arc's properties and consumers of its supportive services.